CGS' Virtual Community Series in collaboration with San Diego's Digital Gym
Get information on our virtual community series in collaboration with San Diego's Digital Gym!
The UCSD CGS Program proudly presents its Virtual Community Series in collaboration with the Digital Gym
 "Materializing Abolition: Queer & Feminist Strategies"
Virtually on a monthly basis during the 2020-2021 academic year. Save the dates for the events below!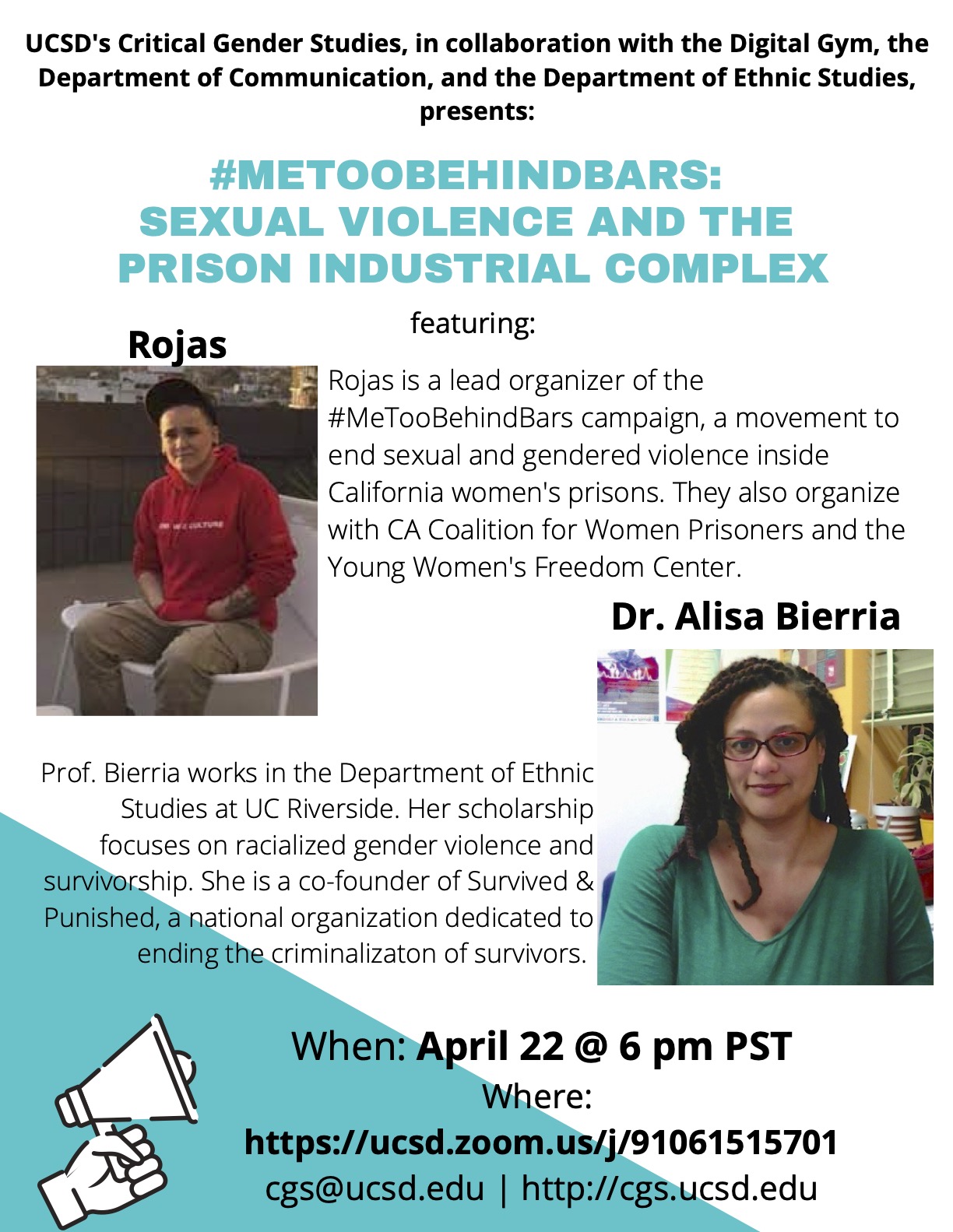 November 19, 2020, 2pm, Why Abolition?: Scripting Stories for Collective Change, A Conversation with Marlon Peterson & Donna Hylton
December 10, 2020, 6pm, California Abolition Groundwork with Curtis Howard of All of Us or None & Romarilyn Ralston of CA Coalition for Women Prisoners
January 21, 2021, 6pm, Prison as Gendering Technology; Queer as Abolitionist Tactic with Prof. Eric Stanley and Krys Shelley. Live Closed Captioning will be available.
February 11, 2021, 5pm, Decarcerating Disability: Deinstitutionalization & Prison Abolition with Prof. Liat Ben-Moshe. Live Closed Captioning will be available.
March 10, 2021, 3pm, Unknotting Transformative Justice: Race, Dis/Ability, and Care Work in collaboration with the Ethnic Studies Department. ASL interpretation and Live Closed Captioning will be available.
April 22, 2021, 6pm, #MeTooBehindBars: Sexual Violence & the Prison Industrial Complex with Rojas from the Young Women's Freedom Center and Prof. Alisa Bierria of UC Riverside. Live Closed Captioning will be available.
The UCSD CGS Program proudly presents its Community Series at the Digital Gym
Tuesdays or Thursdays on a monthly basis from 7-9pm at the Digital Gym in North Park.
January 23, 2020, Stitching Palestine: Film & Tatreez Workshop in collaboration with the Majdal Center
Sustainability, Storytelling and Survival. Come learn how textiles and embroidery serve as methods of storytelling and survival for the Palestinian community. We will open with Carol Mansour's film "Stitching Tatreez." The film will be followed by a tatreez workshop led by Nadia Hassoun, an activist working with the local Palestinian community.
February 13, 2020, In the Kitchen: Feeding Our Communities
Join us as we break bread and share stories about the food we prepare and the communities we feed. Our friends from Mama's Kitchen, City Height' Farmer's Market and the United Women of East Africa share their relationship with recipes, cooking and food accessiblity.
March 10, 2020, UNSETTLED: A Film Screening
UNSETTLED reveals the untold stories of LGBT refugees and asylum seekers who have 
fled intense persecution from their home countries and who are resettling in the United 
States. As new leadership in America continues to demonize immigrants and drastically 
restrict the flow of refugees and asylum seekers into the U.S., UNSETTLED follows the 
stories of Subhi, a gay Syrian refugee, Cheyenne and Mari, a lesbian couple from 
Angola, and Junior, a gender non-conforming gay man from the Congo.
UNSETTLED takes place largely in the San Francisco Bay Area, historically a beacon for 
dislocated LGBT people in the U.S. The film asks whether Northern California is even 
practical as a place to resettle LGBT refugees, especially given the enormous 
gentrification, increased costs of living, and scarcity of housing in recent years.
The UCSD CGS Program proudly presents its Community Series at the Digital Gym
Tuesdays or Thursdays on a monthly basis from 7-9pm at the Digital Gym in North Park.
March 5th, 2019, SAY HER NAME: Black Women & Women of Color Organizing Against Violence Featuring Andrea Ritchie
Andrea Ritchie is a Black lesbian immigrant and police misconduct attorney and organizer who has engaged in extensive research, writing, and advocacy around criminalization of women and lesbian, gay, bisexual and transgender (LGBT) people of color over the past two decades. She recently published Invisible No More: Police Violence Against Black Women and Women of Color now available from Beacon Press.
April 25, 2019, Who IS Madwoman, Etc.?
Please join the Editors of the Press and special guest writers for this exciting event and support the arts in San Diego! Reading is free.
May 16, 2019, Desire and Resistance: Unearthing Trans Legacies
In this 90-minute short film program, trans artists address the erasure of rich legacies of trans activism and art by creating artworks that revisit and re-imagine these stories. Mining existing archives and creating new ones, Unearthing Trans Legacies proposes alternative modes of retrieving and disseminating a trans past through an erotic gaze and experiments in form and narrative storytelling. Defiantly looking towards a future of pleasure, sincerity, and beauty; these works place trans sexual expression and resistance in conversation with a non-linear idea of history, that is both real and fabricated, to address how limited evidence of a past shapes our understandings of the present. This event is sponsored by the LGBT Resource Center, Visual Arts Department, Marshall College, and the Film Studies Program.
June 6, 2019, Reproductive Justice Town Hall
In recent weeks, legislative initiatives across the US have escalated ongoing efforts to limit access to reproductive health care and criminalize the exercise of reproductive autonomy. These draconian measures affect everyone, but they have a disproportionate impact on folx who are poor, immigrants, womxn of color, and trans or GNC. In response, the Critical Gender Studies Program is hosting a Town Hall on Reproductive Rights. Please join reproductive justice activists and scholars of reproductive politics from UCSD and SDSU to share thoughts, strategies, and information at this crucial moment.
The UCSD CGS Program proudly presents its Community Series at the Digital Gym
Wednesdays on a monthly basis from 7-9pm at the Digital Gym in North Park.
November 29, 2017, Living Like Lorde
Join us for a free community film screening of "A Litany for Survival."
February 14, 2018, #TrustBlackWomen: A Celebration of Women's Joy and Healing
In September 2017 women from all around the nation gathered in D.C for the first March For Black Women, to denounce the state violence, sexualized violences, murders and brutalization facing all Black women and additionally the disappearances of our girls from their homes and schools. This March, San Diego will have its first March for Black Women, hosted by Black Lives Matter San Diego. As a precursor to this upcoming event, CGS and Black Lives Matter San Diego invites you to an evening full of community, fun, and reflection as we collectively envision a world in which everyone trusts Black women. Since it will also be Valentine's Day the latter half of the event will include fun interactive stations where we'll get to show each other and ourselves some much needed love. This event centers the experiences of self-identified Black women, but is open to everyone.
March 7th, 2018, In Defense of ourselves: A Celebration of Trans Women Organizing
Trans women around the world are fighting urgent and visible battles to secure their rights. In the process, these activists have built a global movement that continues to redefine what liberation must look like. In honor of International Women's Month we will be bringing together trans activists from southern California to discuss trans women activism within this particular place and time.
April 25th, 2018, Education for Liberation: Queer Feminist POC Pedagogies
Join us and our panel of scholars and community educators to talk about their provocative approaches to creating spaces that uplift, inspire, and challenge systems of power both inside and outside of the classroom. This event is for any person who believes that education has the power to transform our world.
The UCSD CGS Program proudly presents its Community Series at the Digital Gym
Wednesdays on a monthly basis from 7-9pm at the Digital Gym in North Park.
November 30, 2016, An Urgent Post-Election Community Dialogue
The Intersectional, Feminist, Queer, Black, Migrant, Undocumented, Muslim, Indigenous Struggle for a Sustainable Future. We will facilitate a dialogue to dig through the most crutcial questions about where to go next with San Diego activists and organizers of color.
February 8th, 2017, Resistance to Anti-Black Racism, Police Violence and Mass Incarceration, Locally and Globally
These issues are of obvious national relevance, but they have particular relevance for San Diego, a site of various local, state and immigration detention facilities, has a recent history of police shootings of unarmed Black and immigrant men and remains characterized by stark economic inequality. While the local context is key to us, it is equally important to recognize that these issues are not U.S. specific. The discussion will address issues such as the intersections between economic and state violence, antiblack racism among political allies, and transmisogyny in Black and queer activism. This event is cosponsored by UCSD's African American Studies Program and the Black Studies Project.
March 8th, 2017, Womxn of Color Art & Activism: Intersectional Frameworks for a Just World
This panel will feature talented womxn of color artists, activists, and educators in San Diego. We invite panelists and participants to consider how intersectional womxn of color artivism can have a profound impact in various activist and organizing spaces.
April 12th, 2017, A Film Screening & Discussion of American Revolutionary: The Evolution of Grace Lee Boggs
May 31st, 2017, Intersectional Resistance in the 9 to 5 Life: CGS Alumnx Speak Out!
This panel will feature UCSD CGS alumnx as the speak on what it means to carry their intersectional justice frameworks into their various fields of work: the non-profit, corporate, education, counseling and other settings. This event is cosponsored by SPACES and UC San Diego Alumni.
The UCSD CGS Program proudly presents its Community Series at the Digital Gym
Wednesdays on a monthly basis from 7-9pm at the Digital Gym in North Park.
November 20, 2015, From Water Wars to Alternative Futures, An Afrofuturistic Perspective
Featuring scenes from Wanuri Kahiu's Pumzi and Mick Jenkins' Jazz. Followed by a panel discussion with Peggy Pieche, Mohamed Abumaye and Osinachi Ajoku.
March 9, 2016, Mujer Mariposa: An Artistic Night in Honor of Migrant Mothers
Artist Spotlight on Diana Cervera. Screening and premier of Mujer Mariposa: a multimedia project honoring migrant and refugee women, empowering women of color through spoken word and acoustic music.
April 20, 2016, Transnational & Transcommunity Activism: San Diego in Joint-Struggle
A panel on transnational and transcommunity activism with Haneen Maikey and local San Diego grassroots activists and organizers. Haneen is a Palestinian queer community organizer, co-founder and the executive director of the national Palestinian LGBTQ organization "alQaws for Sexual and Gender Diversity in Palestinian Society."
May 18, 2016, Queer Love in Iran and Migrant Europe
Film screening of "Unveiled" and discussion with filmmaker Angelina Maccarone
June 8, 2016, July QTPOC Organizing: Community & Committees
Part I. Celebrate the end of this academic year's CGS Community Series at the DG with community members, organizers and activists. Mix and mingle with food and refreshments!
Part II. There is a coalition of QTPOC individuals who are autonomously organizing a series of progressive, racial, and fun QTPOC-centered events for July 2016. Come with yourself, your group, your family, and join/form a committee!